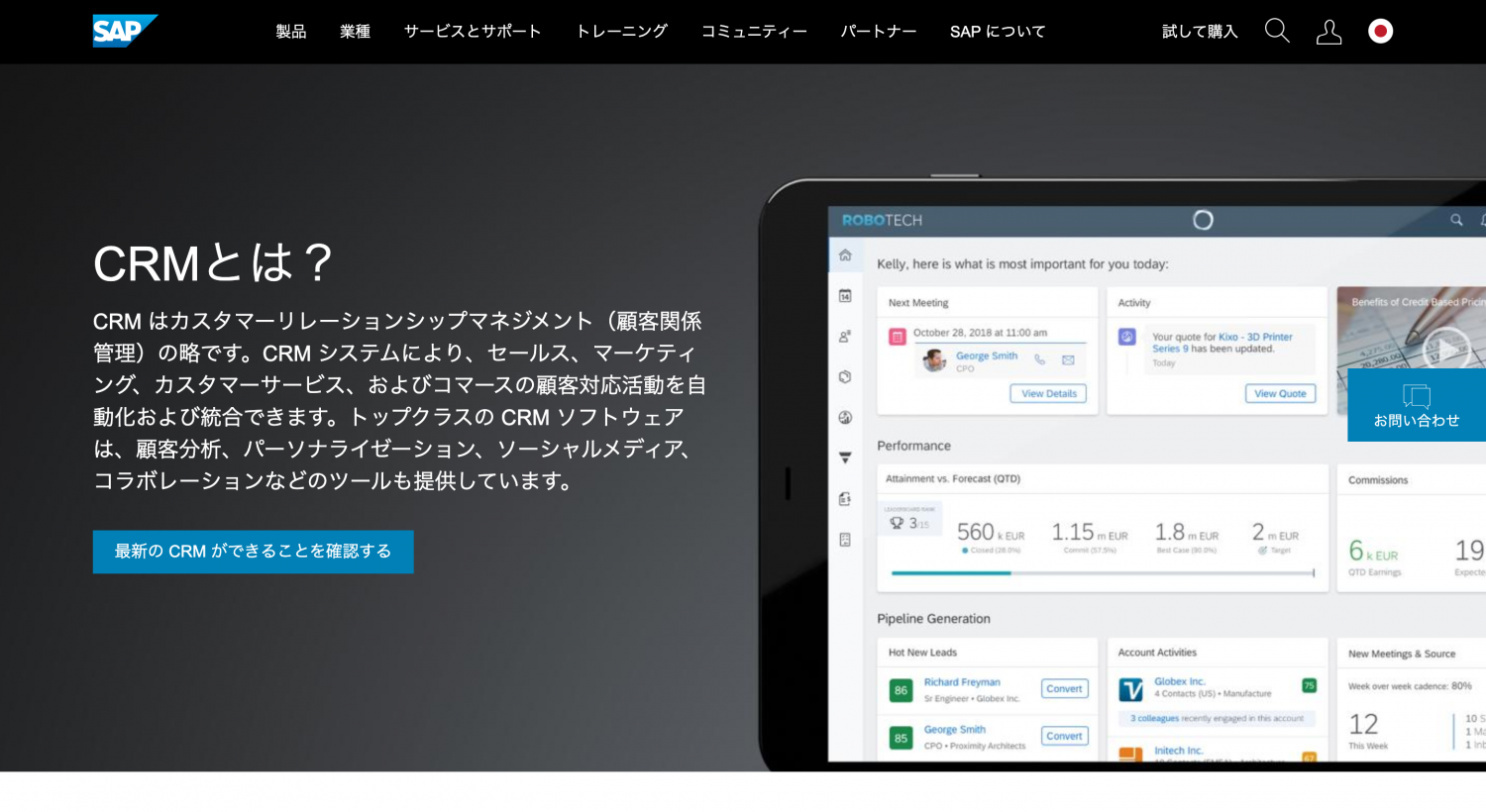 What is the CRM?
CRM as an IT tool refers to a system for improving customer relationships and ensuring smooth transactions.
You can centrally manage not only customer information, but also contact information such as business negotiations, purchasing data, and inquiry history with customers. By analyzing the information accumulated by CRM, it is possible to accurately grasp customer requests and perform management to increase the number of high-quality customers leading to sales and profits.
16 recommended CRM tools
Recommend of NEWJI MARKETING TEAM! Carefully selected CRM that is really easy to use!
CRM is…! "Zoho CRM"
※Referrer "Zoho OFFICIAL SITE"
Zoho CRM centrally manages customer information and provides full visibility of how each customer and prospect is. By analyzing customer trends and customer contact points with data, we were able to make the next optimal approach, and we were able to actually improve the efficiency of our work by improving the process.

Regarding customer information management between sales personnel and marketing personnel, lack of information transmission and management are inadequate due to individual personnel being assigned to work and becoming management personnel. This is because may not be able to follow the customer properly.

In fact, we were quite confused about managing this customer information. It is often the case that teams cannot share management of Excel as well as management of new customers (prospective customers) …

However! ! ! ! !

By introducing Zoho CRM at our company NEWJI as well, we have managed centralized customer information. In that case, customer information that had been complicated until now can be visualized, and it is possible to follow up at the best and nice timing, and from the approach to the customer to the contract is smooth.

Let's take a look at what Zoho CRM looks like in the video below, also posted on Zoho's official site.
In addition, Zoho can link with apps that have various functions, so it is possible to obtain even to nice information.Once you use Zoho, probably you can't leave. However, settings are easy if you use only CRM, but it will be difficult if you start using other linked Zoho apps! Lol
We recommend that you have one Zoho master in your team (administor). At our company, there are human resources who can lecture how to use such Zoho …
We are recruiting! w
CRM tool we want to use!
SAP CRM
※Referrer "SAP CRM OFFICIAL SITE"
"SAP" that everyone knows.
SAP CRM released by SAP enables the latest customer information to be shared in real time within the department or company. I am interested in the fact that each department and staff work together to enable flexible, speedy and effective customer strategy planning and implementation throughout the company.
Up to this point, it is not the same as normal CRM, but what you want to use at NEWJI MARKETING TEAM is:
Aggregate and analyze all customer data using SAP CRM, SAP ERP, and other systems.
Continue to implement PDCA for customers from customer profitability to optimization of sales and service activities.
Since it is possible to receive customer information and knowledge that are centrally managed within the system, we will realize speedy and optimal customer support at each customer contact point.
If we can fully utilize these functions, we can limit the number of prospective customers with a high degree of certainty, and we will be able to accurately approach the highly motivated group.
If we feel dissatisfied with Zoho, we would like to move to SAP next.
What is the effect of introducing CRM?CRM is excellent in real-time and allows teams to share information so that everyone can always obtain and use the latest information.
So sales and marketers always have the most update information to help them formulate the best way to reach potential customers. Also, by managing in a cloud that can be shared by all employees, you can check information about customers even when you are out, and even if something goes defect and problem, you can immediately search for problems from the past history.
With CRM, you can save time, improve productivity, and increase the amount of work time that directly affects your profits. Even as NEWJI, we want to master Zoho CRM first and continue to utilize it to maximize the benefits.
Let's all save time and earn profit!